« Back to All News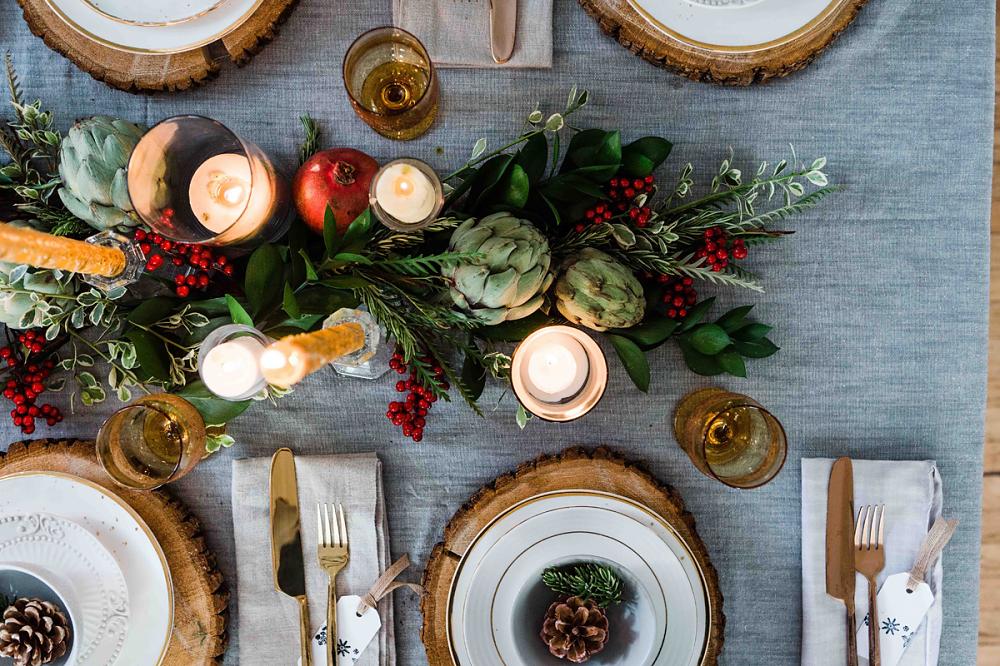 November 13, 2021
DIY Thanksgiving Centerpieces That Pop
As you begin to gather the elements for your Thanksgiving celebration, spare a thought for your table decorations. A beautiful centerpiece tells your guests you are thankful they are in your life. And that's what the holiday is about, isn't it?
If a purchased centerpiece doesn't fit your aesthetic, crafting one takes less time than roasting a turkey. Here are some easy DIY centerpieces that you are sure to be thankful for:
Gather Your Materials
The easiest way to build a beautiful centerpiece is to use what you have on hand. Vases are good, but what about that giant bowl your grandmother gave you? Sure, it's chipped but that just adds to the rustic flare. Baskets, unused platters, beautiful branches can all become integral components. Check your fruit basket and refrigerator. A simple bowl of apples and pears on a table runner can be elegant. If you want to do a little more, search dollar stores for inexpensive dried flowers, fake fruits and more.
Flowers Fresh or Fake?
Whether you use fresh, dried or silk flowers is up to you. Silk flowers won't wither, which means you can put together a centerpiece weeks in advance. Fresh flowers look elegant but can be pricey. Consider using a grocery store-bought bouquet and arranging it yourself. If you have a green thumb, use what is flowering in your garden. Don't feel you have to stick to traditional fall colors. If you love purple or feel fuchsia flowers set off your china, use them.
Vintage or Minimalist
Do you love the look of a Victorian table? Do you dream of a spectacular harvest centerpiece for your antique farmhouse table? Use long wooden boxes, antique-looking platters or several large crystal vases and fill them to the brim with fruit, flowers and greenery. So Much Better With Age shows you how to craft a lovely vintage table with pumpkins. If your style is more minimalistic or you just don't have a large table, line up a row of autumn-scented candles, grab some fake ivy and apples or put a basket of oranges on the table. For more ideas check out Julie Blanner's blog.
'Gourd-geous' Pumpkin Centerpieces
Pumpkins aren't just for Halloween. They can be used in all sorts of creative ways to grace your Thanksgiving table. HomeBNC offers 32 ways you can use pumpkins. If you are looking for something a little unusual, HGTV demonstrates how you can pair pumpkins with succulents. Crafting with the kids? Why not paint a few pumpkins? To get the best results, Michael's has put together a video tutorial.
Food is Always in Season
If flowers and pumpkins aren't your thing, consider an edible centerpiece. A large wooden platter filled with cheese and crackers is elegant and keeps guests nibbling. If you are more ambitious, you can bake up this adorable bread cornucopia. Fill it with edibles and your guests will be raving. Dress up the kid's table with cute centerpieces they will gobble up.
Not Your Normal Table Runner
There's no reason you have to have a linen table runner. Homemade by Carmona shows you how to make a leafy decoration that also serves as an icebreaker. If you are looking for something a little more modern, Design Improvised presents this colorful centerpiece crafted from branches and paper. If you like the idea of using fruit or foliage you picked up while wandering the woods, give this foraged fall table by The Merry Thought a try.
The Perfect Setting
Whichever centerpiece you choose, your table is sure to be a gorgeous reflection of your style. The only way to perfect it would be to have your decorated table in the dining room of a brand new home in Edgewater. Our builders have several homes underway and 40 available floor plans. Talk to a builder sales representative today, and then make plans to host Thanksgiving in your new home next year!