« Back to All News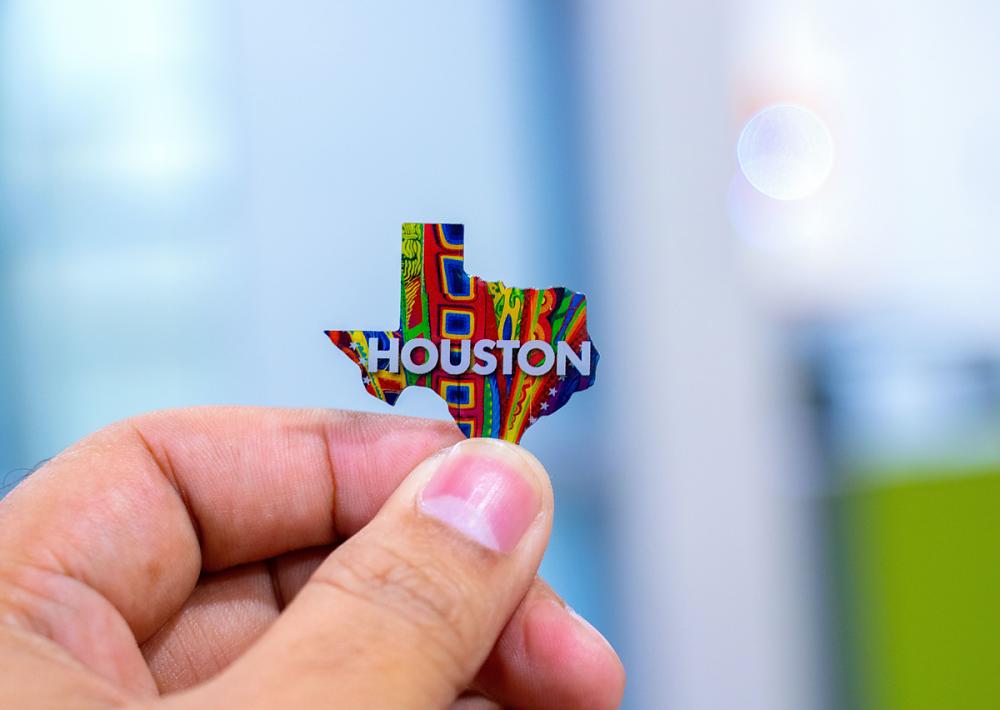 December 16, 2021
Play Tourist in Your Hometown
When was the last time you visited the many attractions that make Houston a tourist destination? If the answer is "It's been a while," why not save on plane fare and explore like a tourist? If you live in Edgewater, you won't even have to rent a hotel room (unless you want to).
Explore the Great Outdoors
Despite a reputation for urban sprawl, Houston boasts beautiful parks, nature centers and places to paddle. Buffalo Bayou Park spans 160 miles along the 2.3-mile stretch of the Buffalo Bayou. Here, you can kayak, let Fido run at Johnny Steele Dog Park, hike and bike the Sandy Reed Memorial Trail or relax in Eleanor Tinsley Park. Hermann Park is the outdoor heart of Houston, drawing an estimated six million visitors a year. The Hermann Park Railroad is a favorite with children. The Japanese Garden is a beautiful place for a romantic stroll. McGovern Lake is where the paddle boats are. Hermann Park is also the home of the famous Houston Zoo. The Houston Arboretum and Nature Center in Memorial Park provides education about the natural environment to people of all ages.
Attractions that Amuse
There is no end of places for families to amuse themselves in the Houston area. One of the biggest attractions is located not far from Edgewater. Space Center Houston draws millions of visitors each year. In addition to more than 400 space artifacts, rockets, spacesuits and model shuttles, it's possible to explore the galaxy via interactive technology allowing you to hop into the driver's seat of your own space capsule. For the ultimate tourist experience, sign the family up for a camp out under the SpaceX rocket or NASA 905 shuttle aircraft carrier and shuttle replica. Moody Gardens in Galveston has something for everyone including an aquarium, rainforest, golf course, rope course, zipline and more. Downtown Aquarium Houston is known for showcasing more than 200 species of aquatic life but it also has rides. Jump onto the Frog Hopper, take a spin on the Diving Bell Ferris wheel or drop 65 feet on the Lighthouse Dive. Not into rides? You can feed the stingrays instead.
Wondering how to stay cool in the summer? Pay a visit to Typhoon Texas. The water park boasts slides, a lazy river, wave pool and more. Kemah Boardwalk attracts visitors year-round with an entertaining blend of rides, restaurants and entertainment.
Many Museums
The Houston Museum District boasts 19 museums across four districts. The award-winning Children's Museum Houston educates and stimulates kids with unique hands-on activities. All ages love spending the day at the Houston Museum of Natural Science, which also houses the Burke Baker Planetarium. There are a dozen permanent exhibits covering astronomy, science, paleontology, chemistry and more. The Houston Museum of African American Culture showcases Black artists. The Museum of Fine Arts, Houston is a private museum celebrating artists past and present from around the world.
Shopping Expeditions
Planning a weekend shopping excursion? There's no better place for fashionistas than Houston. The Houston Galleria is Texas' largest shopping mall. Spanning 2.4 million square feet, the mall houses 400 stores and restaurants. Many high-end retailers catering to national and international visitors can be found here along with a full-size ice rink, a state-of-the-art children's play area and two swimming pools. River Oaks Shopping Center is the oldest shopping center in the United States. Housing more than 70 shops and restaurants, it's also the home of The River Oaks Theatre, an art deco masterpiece that still shows movies. Baybrook Mall offers ample shopping close to Edgewater, while Tanger Outlets is a favorite for those who like designer attire and accessories without the high-end price.
A Gourmand's Guide
From hole-in-the-walls to Michelin-star restaurants finding a delicious meal is easy. Popular with the brunch crowd is The Breakfast Club featuring downhome favorites like chicken and waffles, "biskits" and gravy, French toast and even green eggs and ham. Finn Hall is a European-style dining hall boasting eight restaurants surrounding an elevated bar. FIG & OLIVE Tasting Kitchen & Bar is a must if you are visiting Houston. An ode to the French Rivera it serves up favorites like the Fig & Olive burger, Spanish octopus and grass-fed hanger steak. Families might try stopping in at Little Matts, which donates a portion of their proceeds to the Texas Children's Hospital or Good Dog Houston for hots dogs with a twist.